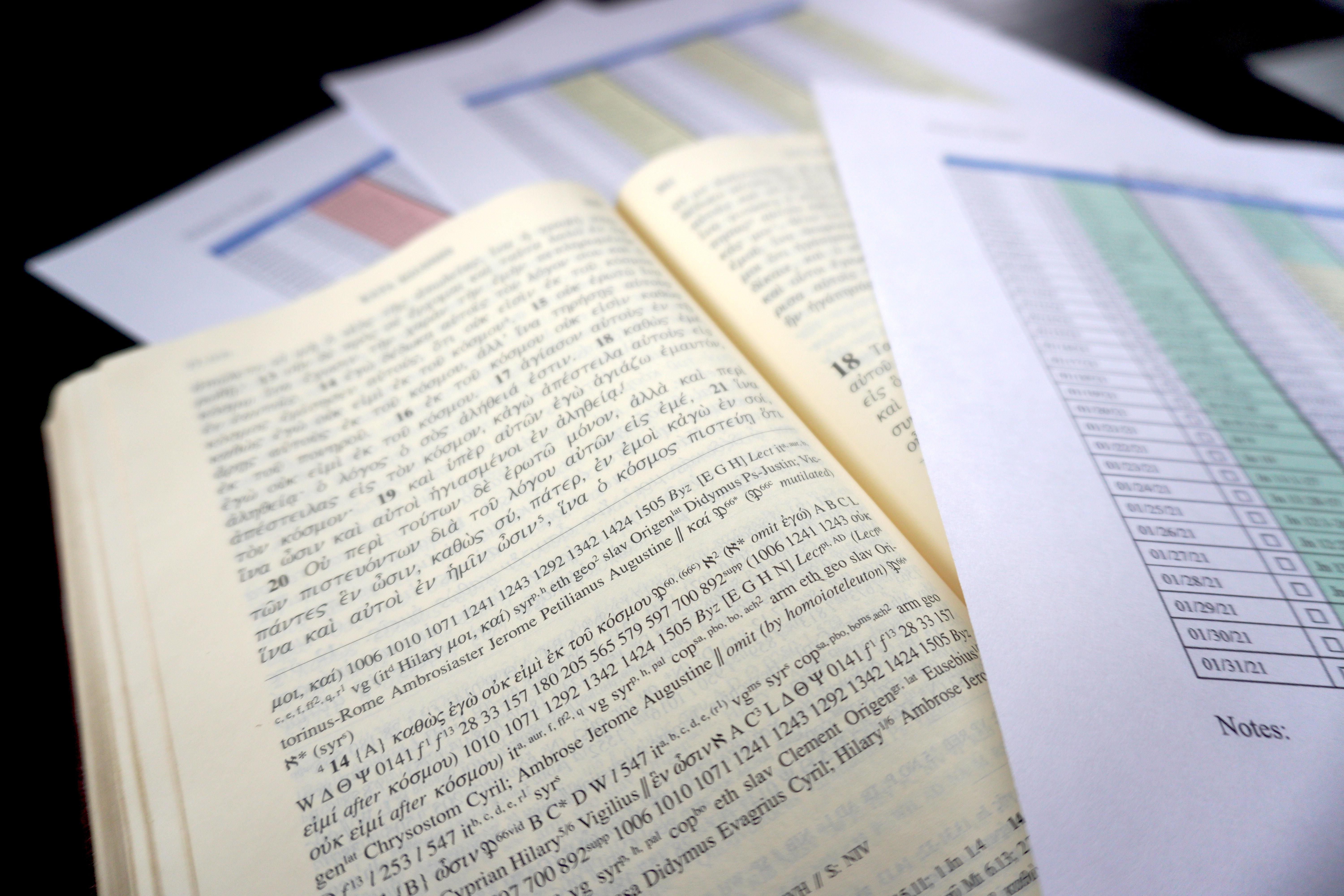 READ THE ENTIRE GREEK NT in 1 YEAR

Zoom Sessions Wed 7-8pm & Sat 10-11am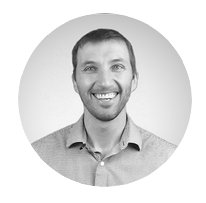 HI, I'M STAN KONDRAT

I am a PhD in New Testament student with emphasis in NT linguistics & the apocalyptic literature.
This year, 2021, I'm reading through Greek NT and I'm inviting you to join me.
I have analyzed the vocabulary and grammar complexity of every NT book and lined them up from the easiest to the hardest. Then I divided them into reasonable daily readings.
Daily readings consist of about 15-25 verses.
Twice a week I'm hosting the Zoom sessions to review weekly readings, answer questions, and translate together.
Every participant follows daily reading plan, then joins Zoom sessions to share ideas, ask questions, and support one another.

COURSE INFORMATION
Download Annual Reading Plan. Follow the daily guide as you read through the NT. The guide is divided in 3 parts: easy books, mid level books, hard books. As we progress through the year, we are going to discover new grammatical patterns and styles so the learning curve is gradual and steady.
About 100 live Zoom sessions. Twice a week (Wed 7pm-8pm & Sat 10-11am EST)
THE FORMAT OF THE CLASS
To make the best use of our time the following format is suggested:
First, participants read assigned readings for each day. They strive to translate as much as they can, take notes, prepare questions.
Second, participants join the Zoom sessions for a brief review of the previous reading, Q&A time, and live translations. Tentative plan for each session: 30min - live translation, 30min - sharing, and Q&A.
Participating in Zoom meetings is voluntary. You can be just an observer or get involved with questions and comments.
WHO THIS COURSE IS FOR

This course requires basic knowledge of the Greek grammar. Although students who still go through the Beginning Greek can join and benefit from this reading exercise, it is best suited for those who already completed the Beginning Greek course. In addition, it will require to improve one's Greek vocabulary throughout the year down to 10+ frequencies. If your vocabulary remains at 50+ occurrences, it will be difficult to translate as we move forward. It is recommended to be solid with at least 20+ frequencies by July.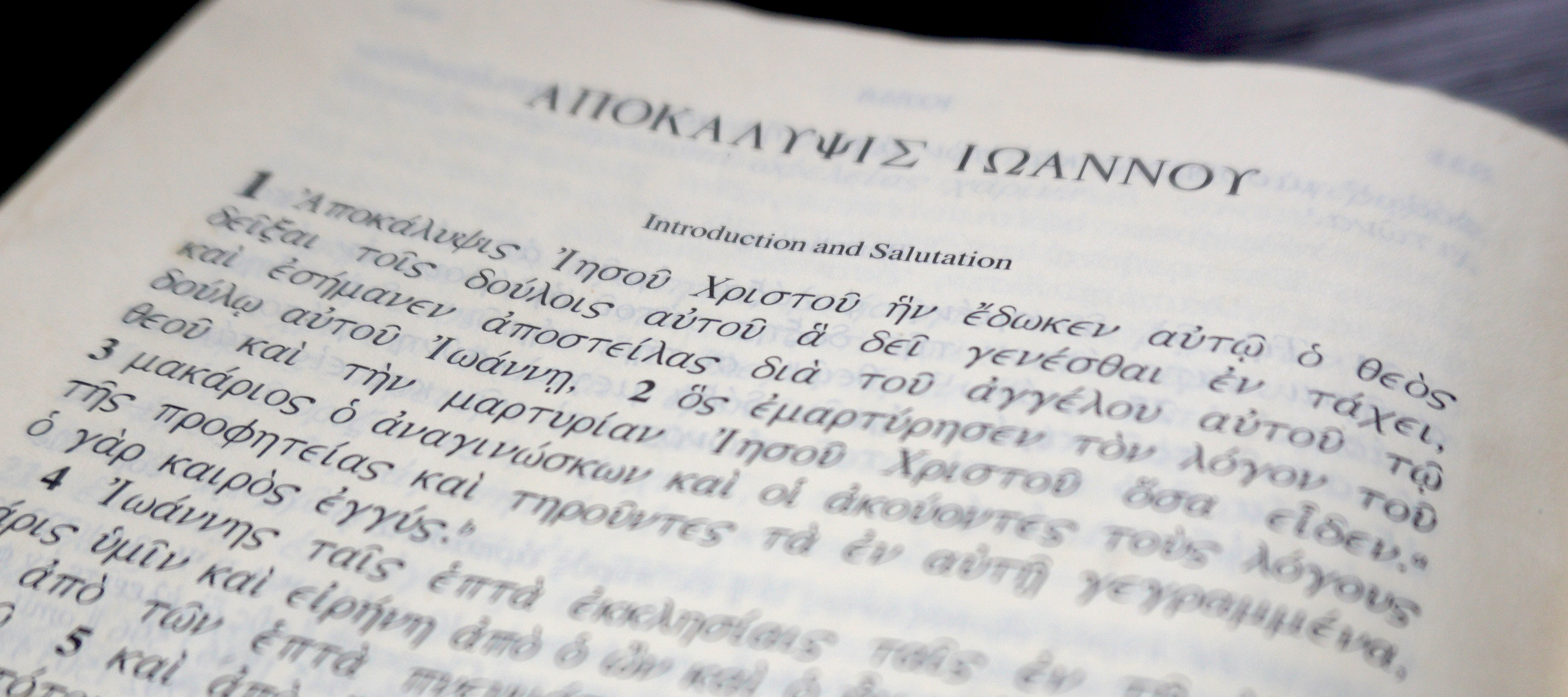 PRICE

This class is priced at only $99.
This is a one time payment which covers the entire calendar year (2021). For those joining later in the year, I will prorate it as following:
On April 1 = $75 (mid level books) On July 15 = $50 (starting hard books)
COURSE CURRICULUM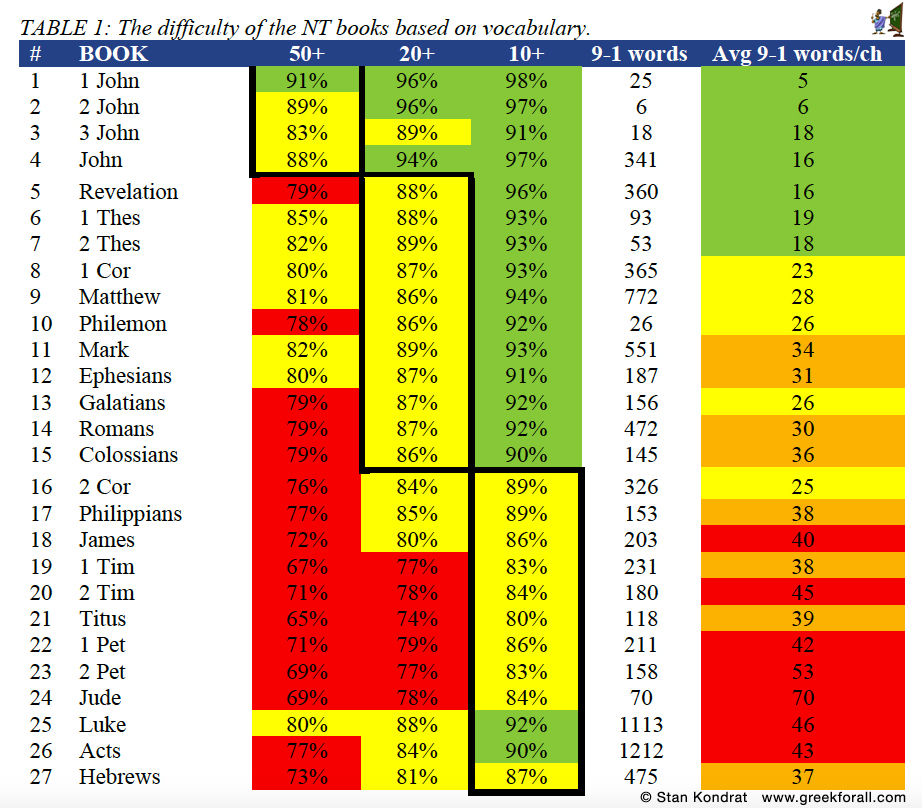 Frequently Asked Questions
When does the course start and finish?
The course runs from Jan 1-Dec 31, 2021. The enrollment is open and the first live session is scheduled on Wed Jan 20.
How long do I have access to the course?
The live Zoom sessions will run from Jan 20 to Dec 31 2021. After that you will keep the reading guide and the Zoom sessions will stop. You are always welcome to join the new group in the following year.
What if I decide the course isn't for me?
We will be happy to issue you a refund within the first 14 days after your purchase date if you're unhappy for any reason.
What tools/skills do I need to complete the course?
You need an access to the Greek text of the New Testament. The UBS5 or NA28 are preferred. You can use printed or online sources. Access to a computer and Internet. The live sessions are done through Zoom software. Download it here: www.zoom.us (it's free for participants).
Will I get access to the full course all at once?
Upon enrollment you will receive the full access to the daily reading plan. The Zoom sessions will come at scheduled times.
If the course has started can I still join the class?
Absolutely! You can join at any time of the year. In fact, we discount the enrollment for late comers (see pricing above). The approximate plan is: 1st Quarter = easy NT books; 2nd Quarter = mid level NT books; 3rd-4th Quarters = complex NT books.
How many spots are available for enrollment?
There is no limit how many people can join. In fact, invite your friends, and we will send you the Greek paradigm chart for free (www.greekforall.com/paradigms)
I am from Europe, Asia, etc., 10-11am & 7-8pm EST doesn't always work for me? Any alternative times?
Although the 7-8pm may not be suitable for Europe, the Sat 10-11am slot seems fitting for most of the world including Europe. We do our best to accommodate everyone and open for alternative times for the following year.
I may not attend all live sessions, what happens then?
We understand that all have their own lives and at times interruptions may occur. Do not worry. We do not check attendance 😂. The live sessions are for review, student's questions, and practice. They are not mandatory to attend. It is just an extra help to offer time with the instructor. You can skip any session if you feel you need to. Note: Although I plan to attend and lead all scheduled sessions, things might happen on my end as well. I will inform everyone if any unforeseen interruption occurs.